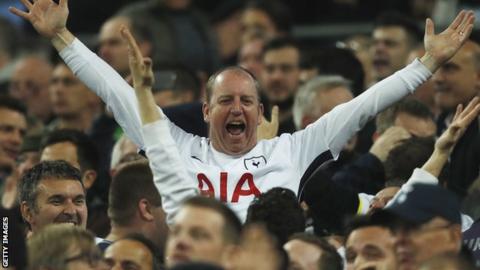 Mauricio Pochettino was not hiding his ambitions or Tottenham's aspirations after they illuminated Wembley with a magnificent Champions League victory over holders Real Madrid.
Spurs manager Pochettino saw enough to say they can now keep company with the best in Europe as well as England – and few would argue with the Argentine based on the compelling evidence offered in a thrilling 3-1 win.
Pochettino now wants Spurs to cross the threshold from progress to the tangible reward of trophies having previously made it clear he regards the Premier League and Champions League as the serious prizes.
So how significant was the message sent out by the manner in which Cristiano Ronaldo, Luka Modric and company were sent packing?
We are among Europe's best – Pochettino
Is this Spurs' landmark moment?
Spurs have had their highlights in the Champions League before. In 2011 a campaign ended with a 5-0 aggregate loss to Real Madrid in the quarter-finals, but not before a thunderous night at White Hart Lane when Inter Milan were beaten 3-1 and a 1-0 win in the San Siro that helped put AC Milan out in the last 16.
This, however, may be the moment and the night that Pochettino's Spurs announced themselves as a European power to be taken very seriously – perhaps too early to be considered potential winners but a team with the capabilities to trouble any other in the Champions League.
If nothing else, victories like this will convince Spurs that they need fear no-one left in this competition.
Pochettino said the win would "make us more visible". In others words, the rest of the Champions League elite would sit up and take notice.
'Spurs' progression is frightening'
Aguero breaks record as Man City put four past Napoli
Liverpool too good for Maribor
And so they should because Pochettino and Spurs were brave in their tactical approach, played with an intoxicating combination of intensity, pace, power and subtlety that was, as coach Zinedine Zidane admitted at his rather sombre post-match briefing, simply too good for Real Madrid.
The club of "Galacticos" had not lost a group stage game in the Champions League for five years, a run stretching back 30 games, but they were given a thorough going over at an ecstatic Wembley.
It was Real's biggest margin of defeat in a Champions League group game since they lost 2-0 to Juventus in November 2008 and it was Spurs' first win against the Spanish giants at the sixth attempt.
Real may have been missing Spurs old boy Gareth Bale but Pochettino's side still had Ronaldo, Modric, Isco, Marcelo, Sergio Ramos, Toni Kroos and Karim Benzema to deal with and they did so in quite stunningly effective fashion.
And, with the words of Manchester City manager Pep Guardiola about "The Harry Kane Team" a source of irritation to Pochettino, this was a team victory. Spurs are a team that think and move quickly.
Dele Alli, with two goals and a powerhouse performance, will take much of the credit but high quality in all areas characterised a win that will announce Spurs as moving even closer to being the real deal.
Kieran Trippier's right-flank raiding created problems all night and led to Alli's first. Jan Vertonghen was a dominant defensive presence. Harry Winks looks perfectly comfortable as a Champions League performer, while the elegant, incisive Christian Eriksen was at the heart of so many good things and got Spurs' third goal for good measure.
And the manner in which Spurs coped with the early loss to injury of defender Toby Alderweireld made the whole package even more impressive.
Pat Nevin, an analyst at Wembley for BBC Radio 5 live, said: "It really could have been a battering from Tottenham. I'm slightly disappointed that they conceded because it could have been 4-0.