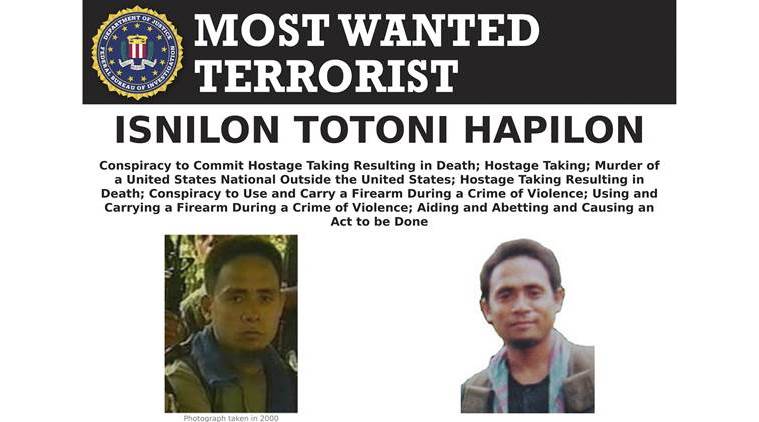 Philippine troops killed two leaders of a militant alliance in an operation in southern Marawi City on Monday, the defence minister said, a big boost to a military battling to contain the spread of Islamic State's radical ideology. Isnilon Hapilon, Islamic State's anointed "emir" in Southeast Asia, and Omarkhayam Maute, one of two Middle East-educated brothers at the helm of the militant alliance Dawla Islamiya, were killed as part of an operation based on information from a hostage recently rescued.
"Following their operational plan, they were able to go this morning… they were killed," Defence Secretary Delfin Lorenzana told reporters.
"Yesterday, we were able to get a testimony from a hostage. She was able to confirm the presence of Isnilon and Maute in that particular building. That's the building that we assaulted early this morning."
Their deaths will be a major win for the military, which has been criticised for its slow progress in retaking Marawi, the country's only Muslim majority city, and the ease at which rebels laid siege to it on May 23.
Those leaders have been central to the rebels regrouping, re-arming and recruiting after previous clashes over the past two years on the southern island of Mindanao.
Another leader, Abdullah Maute, was reported by the army to have been killed in August, though no body was found to prove his death.
The insurgents have surprised the military by their ability to endure more than 130 days of air strikes, compounding fears in the Philippines and the region that Islamic State's radical ideology and its advanced recruitment methods are more prevalent than was previously imagined.
The clashes have killed 813 rebels, 47 civilians and 162 military since insurgents seized the heart of Marawi on May 23, according to the authorities.
Lorenzana said the military was trying to locate another rebel commander, Malaysian operative Mahmud Ahmad. He said the battle for Marawi could be over imminently, adding that 17 hostages were rescued on Monday.
"The indication here is that the Marawi incident is close to the end. We may announce the termination of hostilities in the couple of days."
The rebel alliance in Marawi is comprised of fighters from the Maute group, Abu Sayyaf, and aided by foreigners from countries that include Malaysia, Indonesia, Singapore, and some Middle East states. Child soldiers and teenagers are among the gunmen.